Posted by The Roller Circle on 4th Jun 2023
How: In the evening hours on a beautiful Chicago spring day a few cannabis enthusiasts gathered at the Chicago Center for Photojournalism for an elevated discussion. Before tackling the evening's topic on cannabis advocacy and activism attendees took in the exhibit upon the walls highlighting the works of the infamous Chicago Cub's "Bleacher Preacher", Jerry Pritikin. Pritikin also happened to snap one of the last photos taken of the late LGBTQ+ advocate & activist Harvey Milk.
Photo: Margo Vesely of Illinois NORML & Blake of Daily Roller
The exhibition's name is "When Then Was… Now" a fitting frame for May's social discussion. 'onibus bill', 'ommibus bill', 'awntibus bill', however you pronounce it… one thing is for certain the feelings about the fairness and successes of the most recent 103rd Illinois General Assembly budget bill are mixed. Some market stakeholders are still unaware of the full implications of the bill, or how they are even affected *pulls drag from adult use dispensary purchased pre-roll*. Illinois News Joint Did A Brief
Do you know, there are over 136,000 medical marijuana patients in Illinois?
There are only 55 licensed medical dispensaries in the state. If you live in a medical dispensary desert and are a medical card holder that just means you will have to pay full retail prices (have you heard about Illinois cannabis taxes?), or travel however far is required to the closest medical dispensary facility. The total land area of Illinois is over 55,000 square miles, depending on where you live a trip to the medical dispensary may as well be a day trip.
Math: 1 dispensary per every 1k square miles (could mean hundreds of miles between med dispensary locations, unless you live somewhere like Chicago).
What makes matters worse is the results of the most recent General Assembly do not show promise or inkling of new medical marijuana licenses coming to market anytime soon to offer relief to many financially constrained patients. Such a state of conditions leaves many asking the question, who was this market formed to benefit?
Where Can Someone Legally Consume Smokable Cannabis In Chicago?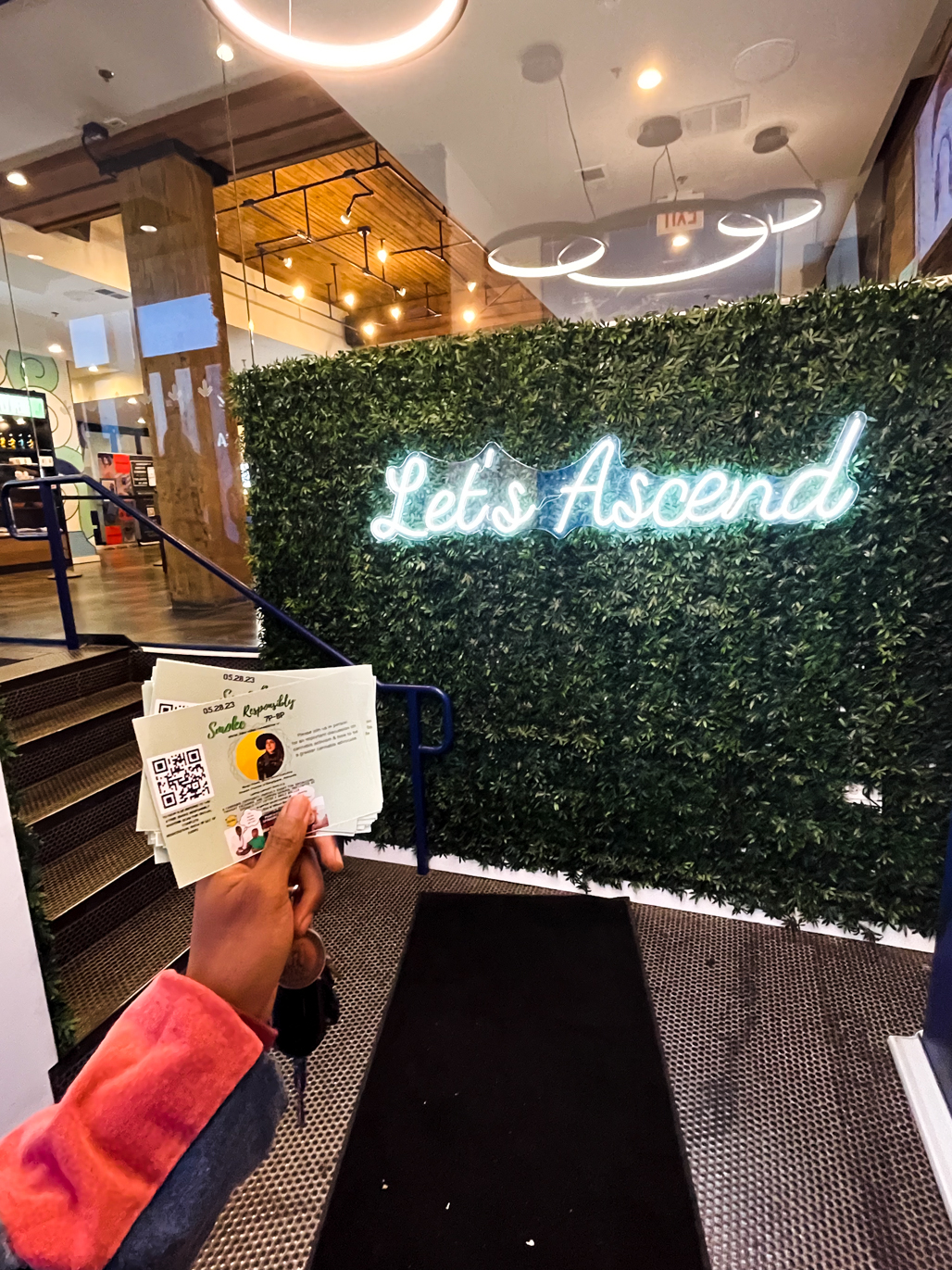 Smoke Responsibly Flyer Near Let's Ascend sign (Ascend RIver North)
Residential consumption is still very much a gray area, but not for those living in government housing -in-resident consumption of smokable cannabis is often prohibited under threat of losing benefits. As of my writing this, there are only 2 well-known cannabis consumptions lounges in the state of Illinois (both outside of Chicago city limits). And not all neighbors are happy to get a whiff of your favorite terpene-cannabinoid potpourri while out walking. So where are legal cannabis consumers that do not own their own home supposed to chief in peace?
Fortunately there are Chicago entrepreneurs like the people at High Focus Media ,Sesh City, and Hush working on filling the gap with unique consumption based events. As a city of many cultures, and a large purchasing population, the need for more legal places for Illinois consumers to responsibly consumer is clear, just ask a Budtender.
The smokable cannabis consumption problem sparked discussion about the implications of direct referendum voting versus representative voting. Depending on where you live in the United States your State may operate on a system where individuals votes directly impact the passing or failing of a public policy initiative, like legal adult use of cannabis. Illinois is a representative voting state, which for some explain the disconnect between constituent desires and reality, members of the state's Senate & House of Representatives must work together to pass legislation in favor of their district members. Axios Chicago Did A Brief In April 2023
The omnibus bill left matters unclear regarding which Illinois government agency is solely responsible for regulating the industry. Lack of clarity creates operational malfunction for license holders, impairs consumer/patient access, fails to meet needs of social equity stakeholders. The Illinois Department of Public Health (IDPH) issues medical marijuana cards to patients, and the Department of Agriculture issues industrial hemp cultivation licenses, while the Illinois Department of Financial and Professional Regulation issues marijuana licenses to businesses (see resources below for more).
The fight rolls on!
Was: ELEVATED ¤ THOUGHT PROVOKING ¤ ACCESSIBLE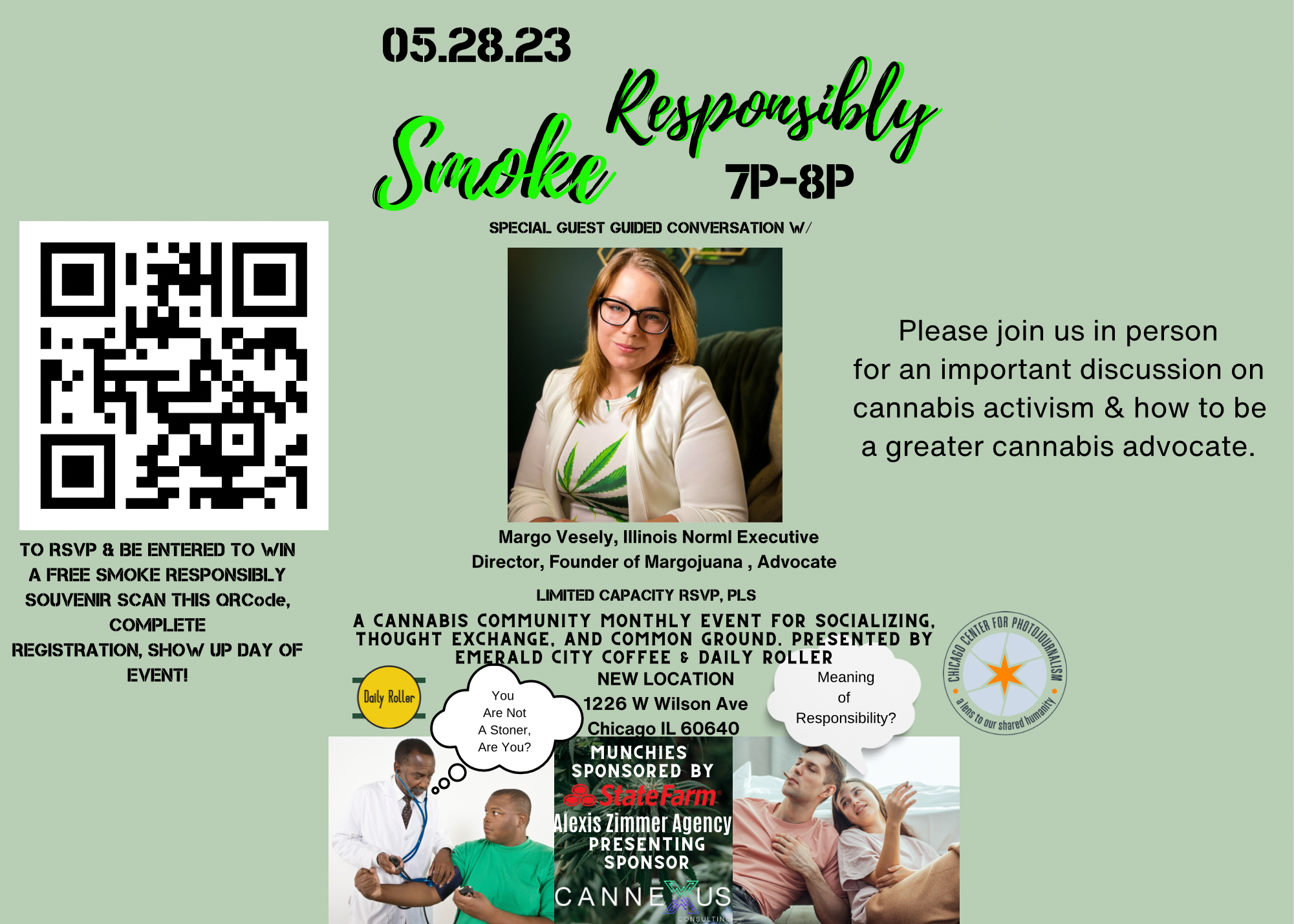 May Smoke Responsibly featuring Illinois NORML flier
Are you a cannabis consumer reading this? How many cannabis consumer protection agencies can you name? Do you know which politicians are in support of legalizing and equitably expanding the cannabis market where you live? Do you believe there should be free choice of legal access of cannabis?
If you answered yes to any of the following, then NORML is an organization that ought to come to mind when you enjoy the benefits of your favorite cannabis delight. National Organization for Reformation of Marijuana Laws is a 501(c)4 non profit organization that has been lobbying for Americans rights to consume marijuana legally since the 1970s. Keith Stroup's Carbondale IL upstart org has now grown to over 150 chapters around the globe.
Illinois NORML is NORML's founding chapter, and shares state membership with Chicago NORML. As Margo explained, a healthy percentage of its membership is representative of southern Illinois residents, while Chicago NORML represents, in a sense, the north. Southern Illinois is known to be a politically conservative place, that made us wonder why Democrats seems to be the most active sponsors of equitable expansion of the cannabis market in Illinois. Illinois NORML hosts a newsletter, and regular membership events throughout the Chicagoland area. See 'Illinois NORML Resources" section below for donation and membership links, or scan the qr codes in the article's heading.
Can I Get Involved With Illinois NORML?
Supporting Illinois NORML allows it to deliver on its purpose of lobbying for patients' rights and providing community resources (databases, legal help, call to action, education). The organization has a current fundraising goal of $100,000 and is inviting pro-cannabis consumers to show their support for marijuana law reformation. Are you looking for an opportunity to get involved in the cannabis industry in a meaningful way? Illinois NORML has several committees with opportunities for motivated community members (see Illinois NORML Resources for more). Complete this form to have Illinois NORML contact you.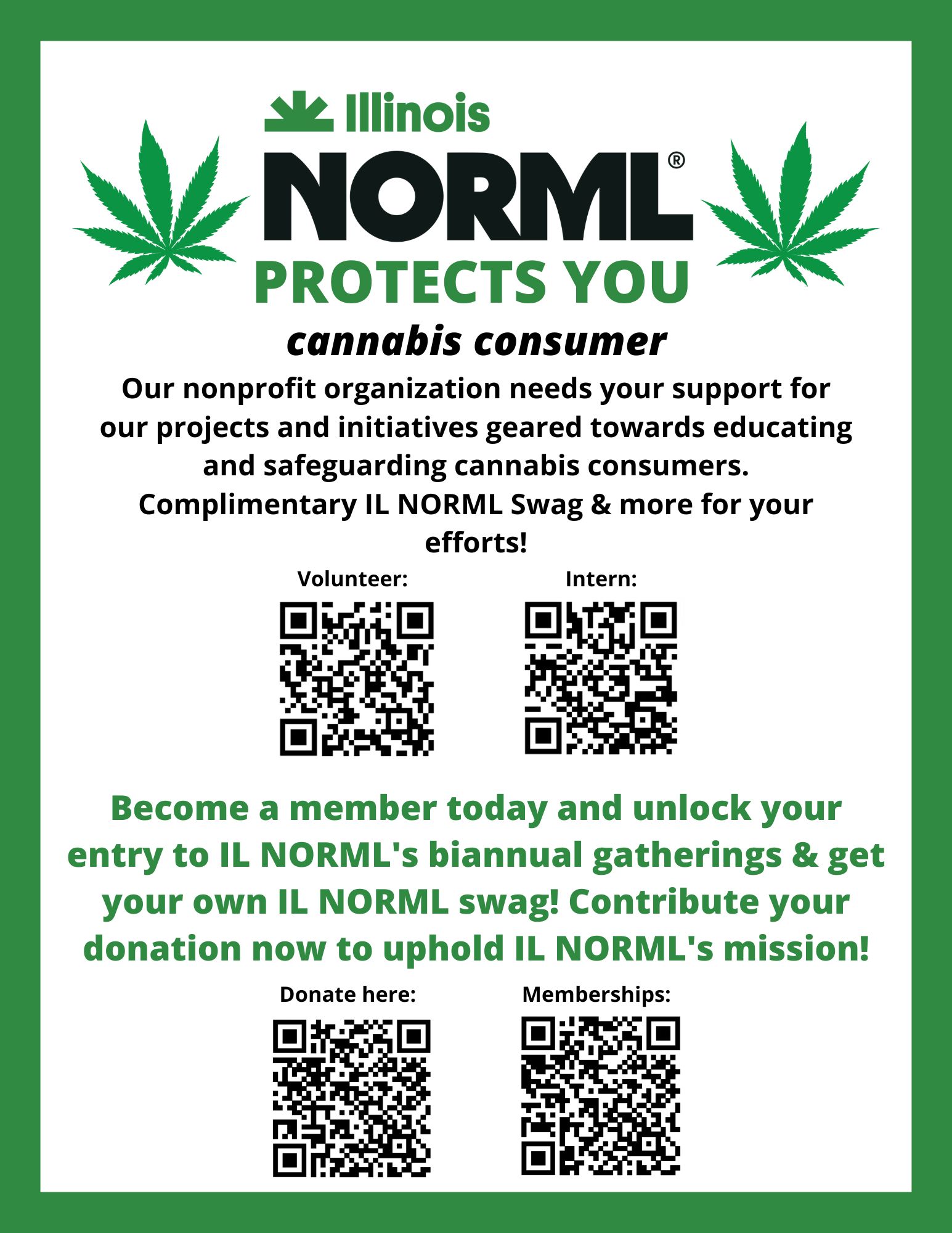 Get Activated with Illinois NORML
What are activities Illinois NORML is currently engaged in that affect cannabis consumers?
Attendees were pleasantly surprised to learn Illinois NORML has been engaging in a series of product tests where they acquire goods sold in local dispensaries and test them for things like the presence of aspergillus. Some disappointing test results received energize Margo's belief that accountable government oversight in the market is necessary, and consumer education needs remain high.
"Even when we speak with the Politicians they say focus on the education… Education has expenses." – Margo Vesely, Executive Director, Illinois NORML
Margo Vesely the organization's Executive Director spoke from her perspective on the needs for greater policy reformation action in the state. She sees the market as currently in a battle with itself, and not fully prepared for the present future where customer demands are outpacing policy progress. As Margo highlighted, "in the past the fight was for legalization, now it's about educating senior consumers & politicians, plus ensuring stakeholders are held accountability for fair access and opportunity to gain profit in the state's cannabis market."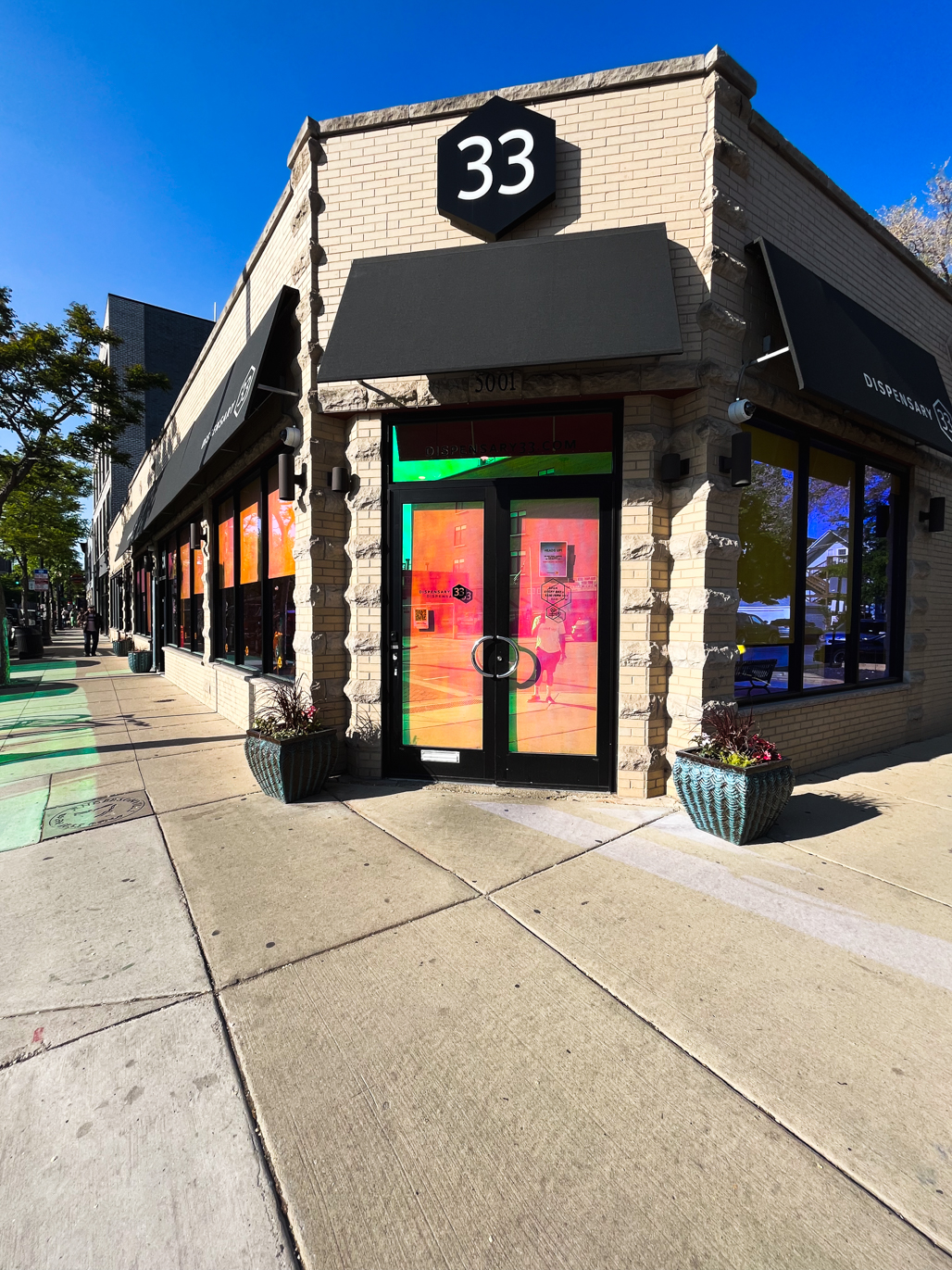 Outside of Dispensary 33- Andersonville, Chicago, IL
One way Margo feels progress can be better sustained is through more educational dialogue between political officials, constituents, and stakeholders. Much of the recent legislation regarding cannabis has been the result of politicians aligning with larger multi-state operators. At least that is the growing sentiment among some social equity and patient advocate groups. A number of Illinois cannabis market participants are feeling neglected.
The stakes are high. High costs of operating cannabis businesses in the state plus high excise taxes -with few medicinal cannabis dispensaries in the state have yet to manifest the sort of cannabis market imagined in the earlier years of Medical Cannabis Pilot Program. Not to mention factions of competing interests positioning themselves, and growing concern that social equity and craft growers are being left to the wayside makes the future unclear. Because of the volume of interests and the vastness of the state Margo believes there is obvious need for "cross organizational communication, and resource sharing" for the purpose of unification and consumer well-being.
What Are Some Recent Illinois NORML Legislative Successes?
Recently, Illinois NORML had Illinois House Bill 2430 co-sponsored by Representative Marcus C. Evans, Jr.
HB2430 is a bill concerning health and seeks to amend the Cannabis Regulation and Tax Act/ Compassionate Care as it effects compassionate care benefits for patients. This includes the establishment of nursery license by way of the Department of Agriculture, this initiative is meant to help fulfill the market gap created by the medical dispensary to medical patient ratio. Margo sees this co-sponsorship as a sign of things to come after a period Illinois NORML not receiving co-sponsorships. She credits the new success to the great team that she is proud to have surrounding her via the Executive Board.
Being able to lawfully provide cannabis patients with more accessibility by increasing the supply of seeds and the like for personal grows is only part of the solution. Illinois NORML Compassionate Care initiatives also seeks to establish a system similar to food banks that would allow low income medical patients access to past shelf life date products that are still medically effective. This access to still efficacious cannabis would create sustainability, plug in supply shortfalls, and help those in most need of medicinal alternatives gain affordable access.
What Are Margo's Current Focus For Illinois NORML?
✪Supporting scientific research and studies: expanding knowledge about cannabis medical applications, potential harms, and public health implications. Funding research can contribute to the development of evidence-based policies.
✪Compassion Program Reformation and Full Funding
✪Legislative Advocacy by way of more co-sponsorship of bills
✪Senior Patient Support and Access – growing market sector
What Are Margo's Responsible Consumption Tips?
1. Know your rights. Under Illinois state law residents 21 and older may possess up to 30 grams or 5 mature plants. Non-residents may possess up to 15 grams. Also, employers cannot take adverse action against you for lawfully consuming cannabis outside of business hours.
2. Be respectful of others' beliefs. The cannabis community is very diverse and complex, we can find common ground without agreeing on everything or using the same words to describe the same activities.
3. Ask your Budtender for a certificate of analysis. Margo cautioned that not all dispensary distributed cannabis is better than what the average person can get on the street. By law a dispensary ought to be able to provide a customer with a product's certificate analysis upon request. Be empowered with this information and know even if you are initially misled you are not out of line for wanting to do your own quality control if you will.
4. Stay hydrated: Cannabis is known to cause dry mouth, and thirstiness. Hydrating is a critical part of well-being and ensuring a pleasurable experience.
5. Be safe don't engage in risky behavior or activities while under the influence of cannabis. Just because it is legal doesn't mean you have the freedom to do what you please. As responsible consumer be mindful of your settings, and activities. Do not risk your freedom or life unnecessarily (see both resource sections below for more insights).
It: Each month, Daily Roller hosts a community event where we bring in Special Guests for Guided Conversations discussing important topics related to cannabis, such as cannabis policing, best practices for consuming legally, research, and current events. Our goal is to create a universal community-sourced framework for mindful, happy, and responsible cannabis consumption.
https://www.eventbrite.com/e/smoke-responsibly-pre...

Thank you to partners and sponsors for supporting Daily Roller's community development efforts as they relate to Smoke Responsibly monthly discussion driven socials. Thank you Margo for collaborating with us on behalf of Illinois NORML helping us unravel a part of Illinois' cannabis industry history, market perception, and educating us on ways we can become active in shaping the future of the cannabis industry through participation in organizations like NORML.
If we missed you at the May social, join us on Tuesday June 27th for our social with Special Guests Esteban & Roderick of Hope's Dispensary, a non-marijuana state cannabis dispensary operator.
Stay Informed Subscribe to Daily Roller e-mail list in the website footer. Thank you for rolling!
Illinois NORML Resources:
1. Become An Illinois NORML Member with link below!
2. Volunteer With Illinois NORML with this Application!
3. Donate to Illinois NORML with this link!
https://ilnorml.app.neoncrm.com/forms/2023-donatio...
Illinois HB 2430 via Legiscan.com
https://legiscan.com/IL/bill/HB2430/2023
Illinois State Cannabis Laws via NORML.org
https://norml.org/laws/illinois-penalties/
About Illinois NORML including Board Members
https://illinoisnorml.org/about/
General Smoke Responsibly Community Resources:
Social Cannabis Consumption Regulations via Chicago.gov
https://www.chicago.gov/city/en/sites/cannabis-inf...
Illinois SB0125 2023-2024 via Legiscan.com
https://legiscan.com/IL/text/SB0125/2023#:~:text=I...
Illinois Cannabis Taxes via Illinois Revenue
https://tax.illinois.gov/research/taxinformation/o...
Illinois HB0030 2023-2024 via Legiscan.com
https://legiscan.com/IL/text/HB0030/2023
What Employers Ought To Know About Illinois Marijuana Legalization
https://www.govdocs.com/legalized-marijuana-in-ill...
Illinois Medical Marijuana Pilot Program Updates by State of Illinois
https://www2.illinois.gov/sites/mcpp/Pages/update0...
List of Adult Use Dispensaries in Illinois via Illinois Department of Financial and Professional Regulation
https://idfpr.illinois.gov/content/dam/soi/en/web/...
(410 ILCS 705/) Cannabis Regulation and Tax Act via Illinois General Assembly records
https://www.ilga.gov/legislation/ilcs/ilcs5.asp?Ac...
Cannabis Consumer Information via Illinois Department of Financial and Professional Regulation
https://idfpr.illinois.gov/profs/adultusecan/infoc...
Starting A Cannabis Business via Chicago.gov
https://www.chicago.gov/city/en/sites/cannabis-inf...
Medical Cannabis Booklet via Howard Brown Health
https://howardbrown.org/app/uploads/2016/03/Medica...
Draft of Medical Cannabis Pilot Bill via Illinois Department of Human Services
https://www.dhs.state.il.us/page.aspx?item=88038
Direct Democracy v Representative Democracy Presentation via Citizen Advocacy Center
https://www.citizenadvocacycenter.org/uploads/8/8/...
Amnesty International - The Death Penalty: No Solution to Illicit Drugs (see page 12)
https://www.amnesty.org/es/wp-content/uploads/2021...